Capture memories with adorable rabbits or majestic yaks near Hidimba Temple. Enjoy paddle boating at a nearby fun park. High Himalayan Adventures offers thrilling adventures like river rafting, skiing, paragliding, and rock climbing. Indulge in a bookworm's paradise at Bookworm bookshop. Explore Manali's culinary delights from street food to international cuisine. Unwind in the evening at the vibrant and less crowded Old Manali, with its diverse restaurants, bars, and shops.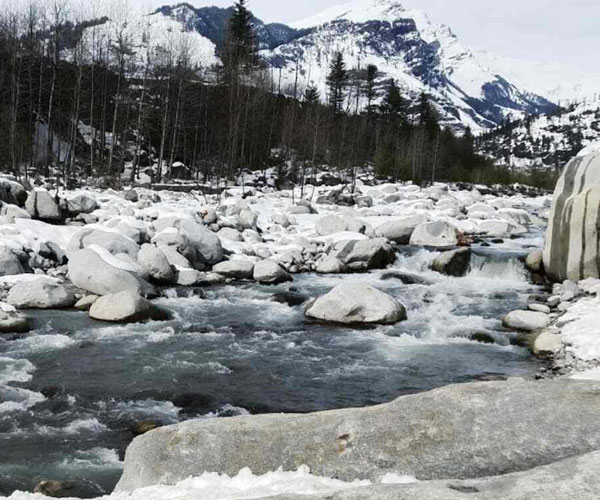 Nehru Kund
Nehru Kund is located at the distance of around 6 km from Manali. It is one of the natural springs of natural water in India. Nehru Kund is named after the late Prime Minister Jawar Lal Nehru. Nehru used to drink water from this Kund, while his journey to Manali. Nehru Kund is on the Manali-Keylong road, about 6 kms from Manali. It is understood that a landslide has wiped out this spring.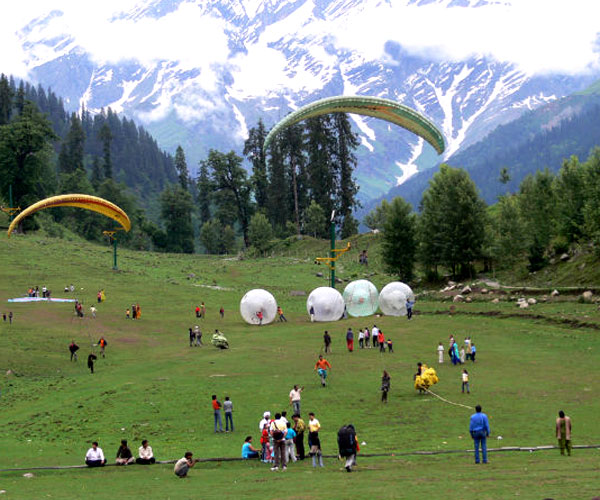 Solang Valley
popularly known as Snow Point, is 13 km northwest of Manali enroute to Rohtang Pass and famous for its 300-meter ski lift. During summers paragliding, rappelling and other adventure activites are conducted here.It is a picturesque spot and offers splendid views of glaciers and the snow-capped mountains.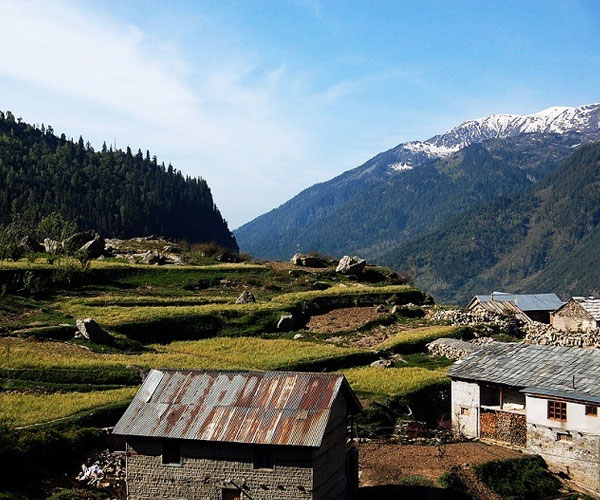 Kothi
Kothi is located at the bottom of Rohatang Pass. It is a beautiful and photographic village where tourists can capture different thrilling views of the deep gorge through which the Beas swiftly runs. This is an amazing place to experience the natural beauty of high altitude mountain.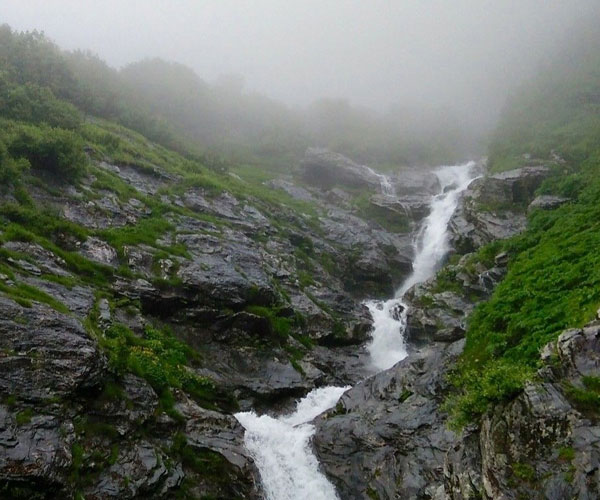 Rahala Waterfalls
About 16 km from Manali at the start of the climb to the Rohtang Pass, are the beautiful Rahalla Falls at an altitude of 2,501 m.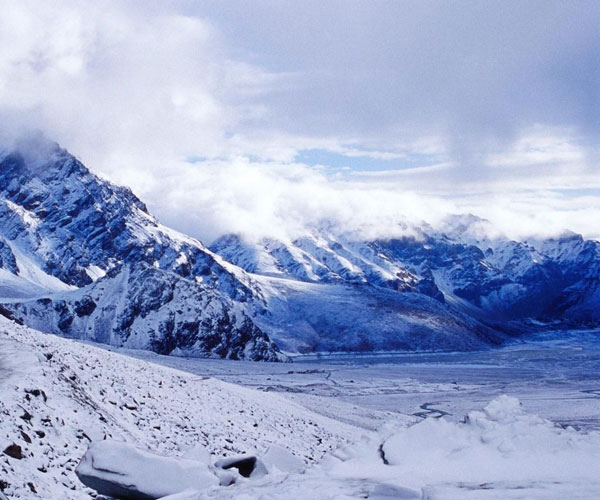 Rohtang Pass
At an altitude of 4117 m (13,050 ft) above sea level, is most popular adventure tourist site where it can be cold even on a summer day. It is the highest point on the Manali-Keylong road and provides a wide panoramic view of mountains rising far above clouds, which is truly breath taking. Close by is a small lake called Dassaur Lake. Beas Kund, the source of river Beas, is also nearby. In winter, the road of Rothang Pass is closed.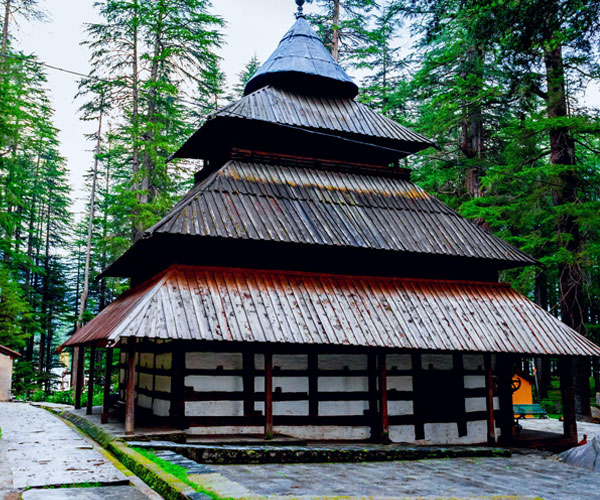 Hidimba Temple
It is an ancient cave temple dedicated to Hidimbi Devi, who was a character in the Indian epic, Mahabharata. The temple is surrounded by a cedar forest at the foot of the Himalayas. The sanctuary is built over a huge rock jutting out of the ground, which was worshiped as an image of the deity. The structure was built in the year 1553. There is also a Fun park' near Hadimba Temple.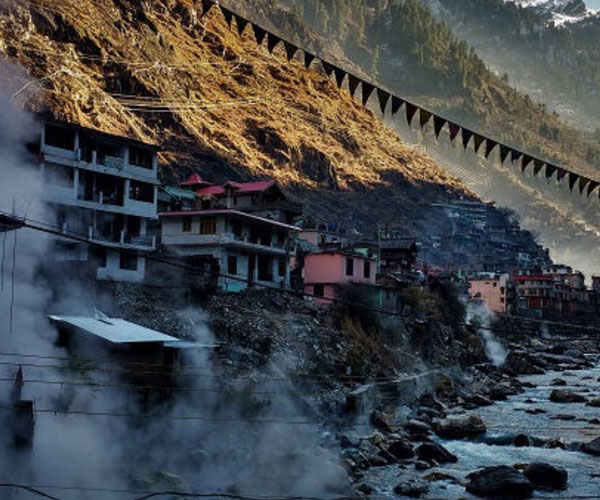 Vashist Hot Water Springs and Temple
Around 3 km from Manali, across the Beas river is Vashist, a small village with natural sulphur springs. Vaishisht, also boasts a pair of old stone temples, opposite each other above the main square. Dedicated to the local patron saint Vashista, the smaller of the two opens on to a partially covered courtyard, and is adorned with elaborate woodcarvings. Those lining the interior of the shrine, blackened by years of oil-lamp and incense smoke, are particularly fine. The temple tanks are underground hot-water/sulfur springs.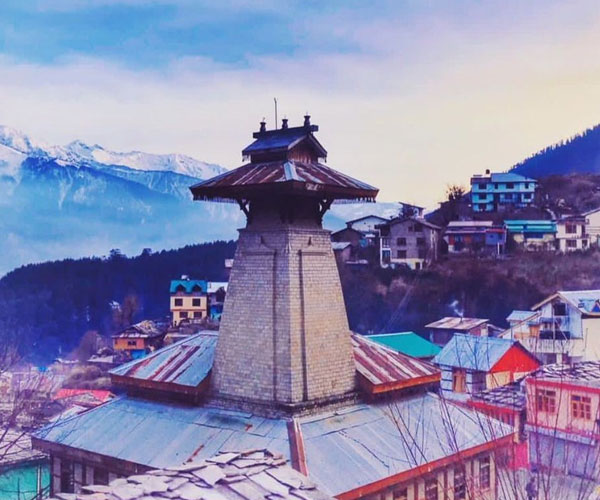 The Manali Gompa
Manali is known for its shiny gompas or Buddhist monasteries. It is maintained by donations from the local community and by sale of hand-woven carpets in the temple workshop.
Manali Gompa was built in 1960. It is one of the important places for Buddhists. Buddhists come to this place from Ladakh, Tibet, Spiti, Lahul and Kinnaur. Manali Gompa is world famous for a large statue of Buddha and for its wall paintings